Heather Wise  Album

The Bridge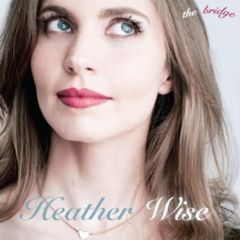 Testimonials
"Juliet" sounds like Joni [Mitchell] in the clouds.  -Pete Caigan, Engineer/Mixer (Sarah McLaughlin, etc.), Kingston, NY
I think "Time" is probably my fave.  Very nice work!  -Jaime Scorby, The Bluebird Café, Nashville, TN
Just got done driving home "rocking out" with your song "Stay!" -Paul V., Fan, Columbia, SC
"Thank you for a splendid event—I truly felt moved by your singing.  You are in the great prophetic tradition of those who sang the truth of God and your wit and personality multiply the power of your message and the beauty of your singing.  I found myself transported by your efforts." 
-Rev. Ron Patterson, Senior Pastor, Naples UCC, Naples, FL
"I told students that you were an example of my highest hope for what could happen in work on scripture with me—being able to fluently, creatively, responsibly sing-speak scripture in whatever of the varied contexts they found themselves after Union.  You do that so well!"
 -David Carr, Professor of Old Testament, Union Theological Seminary, New York, NY
When I can't pick up the Bible, I listen to your record. -Juliana M., Fan, Columbus, OH
---

Heather Wise's song "Ready" 
selected as a Top 5 winner 
in the Acoustic/ Folk category of the 
12th Annual Great American Song Contest.
COMING SOON: sheet music for "She Pondered Them in Her Heart," Heather's  SAB Advent madrigal that was a semi-finalist in the Sorel Organization's Competition for Women Composers.